About Bridge Counseling Services
Bridge Counseling Associates is a 501(c) 3 nonprofit organization that has been in operation since 1971.
Who We Are
Bridge Counseling Associates, founded in 1971, is the oldest non profit providing individual and family counseling in Southern Nevada. We work with individuals, families, courts and various community service programs to help individuals remain independent and families stay together.
Our leadership team consists of individuals highly experienced in the non profit arena, specifically in behavioral health services.
Bridge's highly trained professionals include licensed marriage and family therapists, clinical professional counselors and licensed substance abuse counselors who can address co-occurring mental health and addiction needs.
We are a certified training program for several universities for students earning their Master's degree in Marriage and Family Therapy, as well as Clinical Professional Counseling.
David Robeck, President/CEO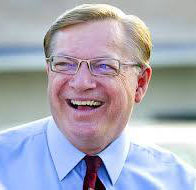 David Robeck is the President / CEO of Bridge Counseling Associates in Las Vegas, Nevada, one of the nation's first Certified Community Behavioral Health Clinics (CCBHC).
He is a lifelong resident of Southern Nevada, excluding four years when he served as a Peace Corps Volunteer and development banker in post-Soviet Russia.
He is passionate about providing exceptional behavioral health treatment to families and children.  Since taking over Bridge, Robeck has expanded clinical staff from eleven to thirty dual-licensed clinicians, along with an on-site psychiatrist and a nurse practitioner.  His team has adjusted its focus to mental health and co-occurring treatment.
Robeck has been a single father for 20 years having adopted and raised four special needs sons.  He is the author of "Will Work For... The Untold Stories of Homelessness," a nonfiction book about poverty and homelessness.  Robeck holds a bachelor's degree in finance and an MBA from UNLV and was a commercial banker for 25 years.